OUR PEOPLE
Elizabeth Dzeng, PhD, MD, MPH
533 Parnassus Avenue
San Francisco, CA 94117
Image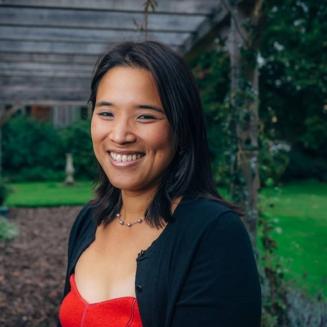 Education and Training
Stanford University, MS - 2003 Chemical Engineering
Stanford University, BS - 2003 Biological Sciences and History
Johns Hopkins Bloomberg School of Public Health, MPH - 2007 Health and Human Rights/Humanitarian Aid
University of Cambridge, MPhil - 2008 Development Studies
Johns Hopkins School of Medicine, MD - 2009
Columbia New York Presbyterian Hospital, Residency - 2011 Internal Medicine
University of Cambridge, PhD - 2015 Medical Sociology
Johns Hopkins School of Medicine, Fellowship - 2015 General Internal Medicine
Awards and Honors
Watt Hansell Scholarship, Johns Hopkins Bloomberg School of Public Health, 2006-2007
Delta Omega Public Health Honors Society Inductee, Johns Hopkins Bloomberg School of Public Health, 2007
Gates Cambridge Scholarship, University of Cambridge, 2007-2008
Gates Cambridge Scholarship, University of Cambridge, 2011-2015
Founders Grant Award, Society of General Internal Medicine (SGIM), 2014-2015
Ho-Chiang Palliative Care Research Fellowship, Johns Hopkins School of Medicine, 2014-2015
Research Core Development Scholar, UCSF Claude D. Pepper Older Americans Independence Center, 2015-2016
Research Scholar Award, American Association of Hospice and Palliative Medicine (AAHPM), 2015-2016
Andrew Markus Scholarship, Ethox Centre for Bioethics and Green Templeton College, University of Oxford, 2016
Atlantic Fellow for Equity in Brain Health, Global Brain Health Institute, UCSF, 2017-2018
Junior Investigator Career Development Award, National Palliative Care Research Center (NPCRC), 2017-2019
NIH Loan Repayment Program Award, National Institute of Health, 2017-2019
KL-2 Scholar, UCSF Clinical and Translational Science Institute (CTSI), 2017-2020
NIH Loan Repayment Program Renewal Award, National Institute on Aging (NIA/NIH), 2019-2021
Alzheimer's Disease Research Award, California Department of Public Health, 2019-2024
Sojourns Scholars Leadership Award, Cambia Health Foundation, 2022-2024
Paul B. Beeson Emerging Leaders Career Development Award in Aging (K76), National Institute on Aging (NIA/NIH), 2022-2027
Overview
Dr. Dzeng is a sociologist and hospitalist physician conducting research at the nexus of sociology, medical ethics, palliative care, health equity, anti-racism, and human-centered design. She is an Associate Professor "In Residence" at the University of California, San Francisco (UCSF) in the Division of Hospital Medicine and Social and Behavioral Sciences, Sociology program, Affiliated Faculty in the Department of Humanities and Social Sciences and the Philip R. Lee Institute for Health Policy Studies. She spends her time between San Francisco and London where she is a Senior Research Fellow at the Cicely Saunders Institute at King's College London. She is also a Senior Atlantic Fellow for Equity in Brain Health, a Visiting Research Fellow at Kings College London's Department of Global Health and Social Medicine, and a Visiting Assistant Professor in General Internal Medicine at UCLA.

Her research program focuses on using sociological and human centered design methods to understand how institutional cultures and policies influence clinical practice patterns and how to change institutional culture to improve the quality of care. She conducts large-scale comparative ethnographic interview studies in the United States and the United Kingdom to understand the influence of institutional cultures and policies on clinicians' ethical frameworks, communication practices, and clinical practice patterns around end-of-life care. A particular area of interest is around the influence of neoliberalism and specifically the culture and ethical implications of neoliberalism on an institution's ethical priorities around end-of-life care.

Her other major research focus is around using community-based participatory research methods to understand how structural racism across the life course influences the provision of quality end-of-life care in older Black adults. This project is in part funded by a NIA/NIH Beeson award and a Sojourns Scholars Leadership Award. In addition, she is working on several projects to improve equity and promote anti-racist care around hospitalist care at UCSF. One project, funded by UCSF's Caring Wisely award, is a new health advocate program to help support and advocate for African American and patients with limited English proficiency. A second project is a partnership with GLIDE, to expand their program, "Healers at the Gates" to create culture change around anti-racism and equity in UCSF's Division of Hospital Medicine.

Among her national leadership roles, Dr. Dzeng is a past Chair of the Ethics Committee at the Society of General Internal Medicine (SGIM), an Associate Editor for the Journal of General Internal Medicine (JGIM), and a member of the Executive Committee of the Research Centers Cooperative Network (RCCN), a national coordinating center of the National Institutes on Aging (NIA) center programs. A central focus of her local and national leadership efforts have been focused on anti-racism, diversity, equity, and inclusion. This includes involvement as a member of the Task Force for diversity, equity, inclusion, and accessibility for the Clinician-Scientists Transdisciplinary Aging Research (Clin-STAR) Coordinating Center, a national NIA platform for early career researchers in aging research; member of UCSF's Taskforce on Anti-Racism and Equity in Research; and a member of the Equity Committee of the Sojourns Scholars Leadership Program community.

Dr. Dzeng completed her PhD in Medical Sociology and an MPhil in Development Studies at the University of Cambridge at King's College as a Gates Cambridge Scholar where she wrote her doctoral thesis on the influence of institutional cultures and policies on physicians' ethical beliefs and how that impacted the way they communicate in end of life decision-making conversations. She was also a General Internal Medicine post-doctoral clinical research fellow and palliative care research fellow at the Johns Hopkins School of Medicine. As an undergraduate and engineering graduate student at Stanford, she participated in the first class of Stanford's Biodesign Innovation program where she used design thinking to co-invented and patented a device to non-invasively cool the heart through the esophagus to prevent myocardial damage during a myocardial infarction (US Patent 7,758,623; 2010). In August, 2019 this patent was licensed to Attune Medical.

Outside of academic medicine, Dr. Dzeng is an avid rower and has competed in races such as the Head of the Charles and the Henley Women's Regatta. She is happiest when traveling the world, especially hiking and exploring the world's natural wonders.